If Not Us, Then Who?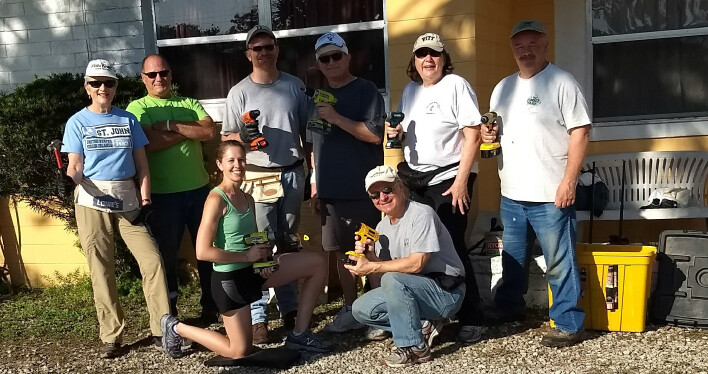 "If not us then who? If not me and you, right now, it's time for us to Do Something." These words from a popular contemporary Christian song have resonated with me since the first time I heard them. Doing something means different things for different people. Those of us who can go and do the physical work are no more important than everyone in the congregation who is able to provide financial and prayer support. All of us play an equal part in doing something to show God's love and be that shining city on a hill.
This was my second mission trip, and I've learned that though we never know for certain what we'll be doing or who we'll be doing it for, it's always a blessing for those of us who are able to go. Our homeowner, Miss Annette, has had blue tarps on her home since Hurricane Matthew in Oct. 2016. She's lived with a piece of plywood on her living room ceiling covering temporary repairs that were not to be completed until a new roof was put on. She is a sweet spirit-filled sister in Christ and a mighty prayer warrior. She has her own ministry bringing the Word of God to the homeless in the Daytona Beach area.
Our team brought varying skill levels to the task of covering Miss Annette's asphalt shingle roof with a new metal roof. This was something new for all but one of our seven-member team, and we were fortunate to have an excellent VIM representative to lead us. We were blessed to stay in a house that had been rehabilitated and owned by Habitat for Humanity. It gave us a great opportunity to get to know each other better and become a family unit while together. Miss Annette told us how blessed she was to have us there and said that she had to wait a long time to get her house fixed just so that God could send our team to work on her home. Thank you for making it possible to be an answer to another's prayer by being God's hands and feet.