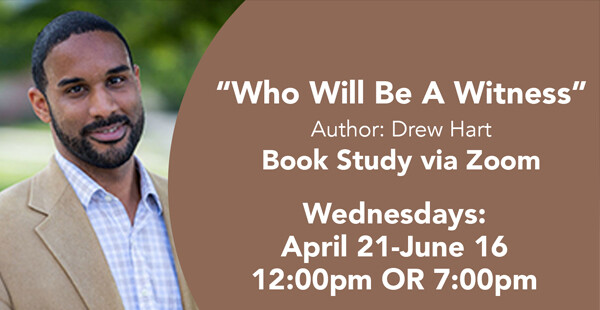 Every Wednesday, from 04/21/2021 to 06/16/2021, 12:00 PM - 1:00 PM
"Who Will Be A Witness: Igniting Activism for God's Justice, Love, and Deliverance
Wednesdays, April 21 through June 16, 12:00pm OR 7:00pm via Zoom.
"Who Will Be a A Witness" offers a vision for communities of faith to organize for deliverance and justice in their neighborhoods, states, and nation as an essential part of living out the call of Jesus. Author, Drew G.I. Hart provides incisive insights into Scripture and history, along with illuminating personal stories, to help us identify how the witness of the church has become mangled by Christendom, white supremacy, and religious nationalism.
Participants are responsible for providing their own copies of the book or digital versions. A chapter a week will be discussed. A short study guide will be sent to each participant in advance. Co-led by Jay Layman and Christina Benson.