Next Steps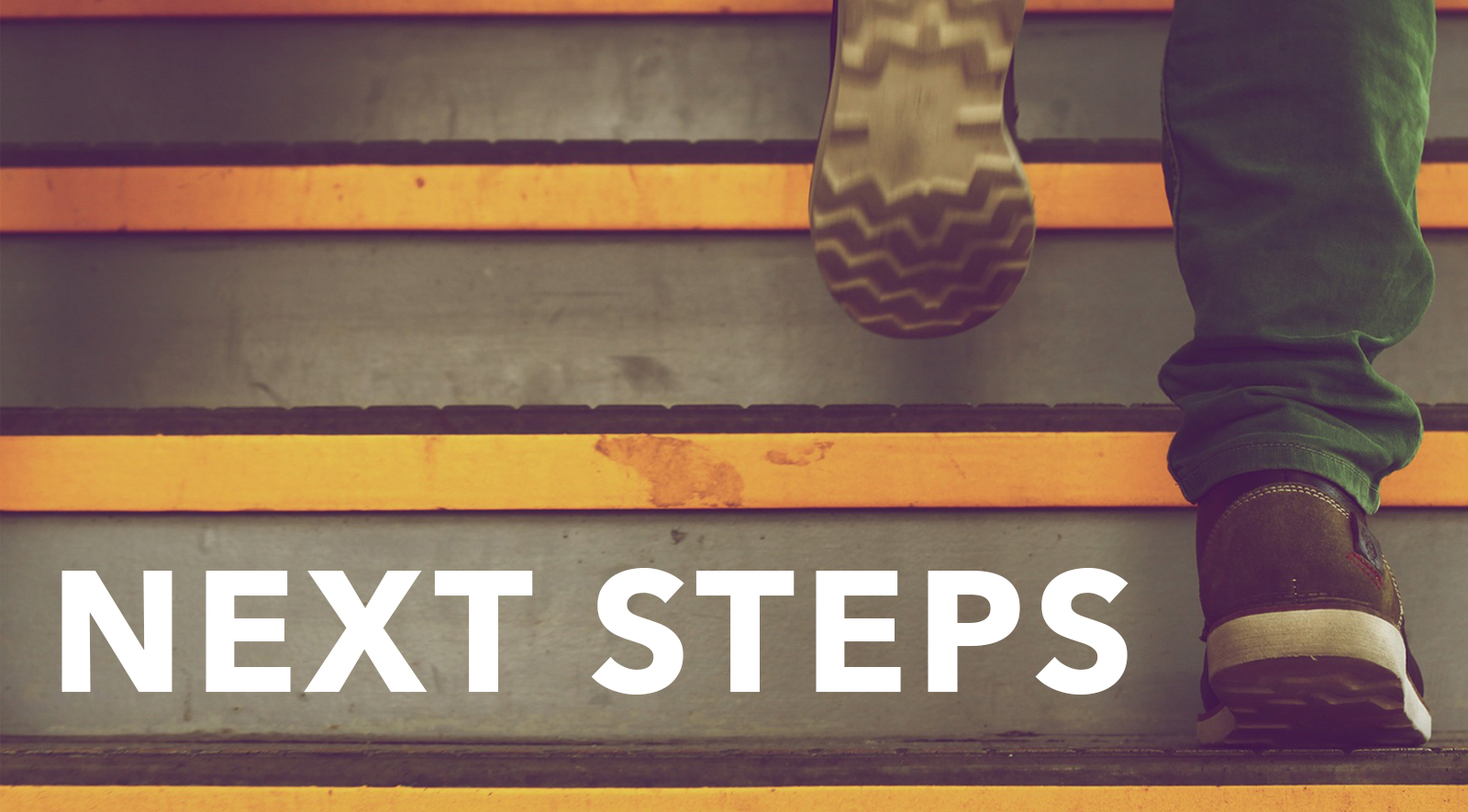 Each of us have a next step to take.
What is a next step?
We've all got a next step to take as we move forward and LIVE LIKE JESUS. This page will give you some ideas on Next Steps at Carlisle United Methodist Church.
CONNECT CARd

We want to know you and we are so glad you are here! Our team would love to serve you and help you get connected. Please fill out our online Connect Card and let us know you are worshipping with us or want to know more about us! Fill out our Connect Card here.

PRAYER REQUESTS

Prayer is a vital part of our life together. Our vows of membership include promising to pray for the church and for one another. Prayer lifts us up, encourages, strengthens, and comforts. Above all, prayer WORKS. Submit your prayer requests or praises here.

GIVE

Together at CUMC we give as an act of worship and praise to God; empowering each other and our community to Live Like Jesus. Give Securely online here; Text "Give" to 717.964.4111; Mail gifts directly to the Church Office OR Give in Worship services.
---
next steps in worship
INDOOR & ONLINE SUNDAY WORSHIP
Indoor Worship: Main doors open 7:30am-Noon (check-in required. Prior sign-ups required. Masks required at all times. Please enter through the Main Entrance doors, under the large central cross, for check-in. Sign up here for the 8:00am Traditional Service, 9:30am Contemporary Service or 11:00am Relaxed Traditional Service.

Online Worship: Our 8:00am & 9:30am services are live-streamed to our Youtube channel. Click here.
PENTECOST SUNDAY - WEAR RED
| | |
| --- | --- |
| | Sunday, May 23 we will welcome new members and celebrate Pentecost, the birthday of the church. Please wear red. |
GRADUATE SUNDAY - JUNE 13
| | |
| --- | --- |
| | Sunday, June 13 we will honor graduates in worship. If you have a high school/college graduate, please email their name, school and degree to by June 6. |
---
next steps in growing
what comes next? a guide for christian leaders book study
| | |
| --- | --- |
| | Tuesdays, June 1 - August 17, 7pm, via Zoom. Our mission as Christians was the same yesterday as it is today and will be tomorrow. The world, however, is changing faster than ever before, and keeping up feels impossible. The realities of human life - from how we develop relationships to how we use technology to have impact - therefore change rapidly too. It's critical that Christian leaders take this into consideration as they plan for their organizations' future. Led by Chuck Steel. SIGN UP HERE. |
---
LIFT: Ladies in fellowship together
| | |
| --- | --- |
| | Wednesdays, June 16 - July 21, 11:30am-Noon (hangout), Noon-1pm (study), Patio (rain location: Chapel) or via Zoom. For women 20s-40s. LIFT will read, "The Red Tent," by Anita Diamant, a modern classic interpretation of the biblical story of Dinah, daughter of Jacob. It combines storytelling with a new perspective on women's lives in the Old Testament. Erin Burd and Pastor Mira will co-lead. Childcare available. Purchase book on your own. SIGN UP HERE. |
---
the enneagram: a christian perspective book study
| | |
| --- | --- |
| | Sundays, June 27 - August 8 (no class July 4), 11am, Room A4. The Enneagram for Beginners is more than a book, it's a personal growth journey and a guide to discovering the person God created you to be. Author, Kim Eddy paints a clear picture of the path to begin living a God centered life that aligns with the true you. Led by Stephanie Peffer and James Baity. SIGN UP HERE. |
---
the forge
| | |
| --- | --- |
| | Every other Sunday at 5:15pm, Room A1. For men 20s-40s. The Forge is studying, "Twelve Ordinary. Men: How the Master Shaped his disciples for Greatness and what he wants to do with you," by. John MacArthur. Led by Jay Layman. SIGN UP HERE. |
---
thursday men's breakfast
| | |
| --- | --- |
| | Thursdays, 8:45am, Room A3 or via Zoom. "Seeing Gray in a World of Black and White." Everyone agrees that America is polarized, with ever-hardening positions held by people less and less willing to listen to one another. Led by Rich Charette. SIGN UP HERE. |
---
WALKING With jeSUS: COST OF DISCIPLESHIP
| | |
| --- | --- |
| | Every other Saturday: April 24 thru October 30, 6-7:30pm, via Zoom. Journey together in deepening our relationship with Jesus. Through examining the Sermon on the Mount, we will grow our understanding of what it means to walk with Jesus and the cost of discipleship. Bonhoeffer's premise, "only those who believe obey" and "only those who obey believe" serves as the basis in exploring our individual and wider community roles in conforming to the image of Christ. Led by Kevin & Julie Guistwite. Book costs $10.99. SIGN UP HERE. |
---
adult sunday school options
---
student ministry (6th-12th grade)
---
kids' ministry (birth - 5th grade)
---
next steps in connecting
BELIEVERS IN ACTION "WHO WILL BE A WITNESS" BOOK STUDY
| | |
| --- | --- |
| | Wednesdays: April 21-June 16, 12:00pm OR 7:00pm via Zoom. Dr. Drew Hart's, "Who Will Be A Witness," offers a vision for communities of faith to organize for deliverance and justice in their neighborhoods, states, and nation as an essential part of living out the call to Jesus. More info and sign up here. |
---
WALKING CLUB
The plan is to walk weekly on Wednesdays at 9am and monthly on a Saturday at 9am - usually in Carlisle but also considering taking the van(s) and walking elseware. When it rains, we'll walk indoors.

If you have not signed up yet, the club has an open membership policy. Please send Kerm Leitner, the name of your emergency contact and that person's cell number.

Any questions, please contact Kerm.

Our goal for every walk is to complete it safely, have fun, and pray for any folks who need our prayers.
---
21 day racial equity challenge
| | |
| --- | --- |
| | May 11-31 with stories form local individuals, videos, articles, movies, and more. Learn more here. |
BELIEVERS IN ACTION LGBTQ+ 101 WEBINAR
| | |
| --- | --- |
| | Sunday, June 13, 7-8pm, via Zoom. "Loving Our LGBTQ+ Neighbors: Come Grow Your Understanding with an LGBTQ+ 101 Webinar." Dre Ceja from the Central PA LGBT Center will present an LGBTQ+ lesson. Sign up here. |
---
next steps in serving
BLESSED TO SERVE
| | |
| --- | --- |
| | Blessed to Serve is ready to help with minor house repairs for our elderly or those in need, particularly around safety concerns. Contact Bill Yufer, to learn more. |
mowing volunteers needed
| | |
| --- | --- |
| | Mowing volunteers are needed at Carlisle UMC. Equipment is provided (riding &. push mowers). Flexibility on when you mow and now often. Takes 3-4 hours/week for 3-4 people. If you have trouble with the sign-up process, please let Rick Washinger know at com or 717.319.3569. |
---
mission central volunteers needed
| | |
| --- | --- |
| | Volunteers are needed for CUMC's trips to Mission Central on the 3rd Thursday of each month. We meet at the church at 8:30am and work 9am-12pm. Contact Jean Yufer at 717.249.4642 or to get involved. |
---
interested in membership?
We believe that Christians are made, not born. There we take it as our responsibility to take the initiative in making Christians and initiating new people more...