Next Steps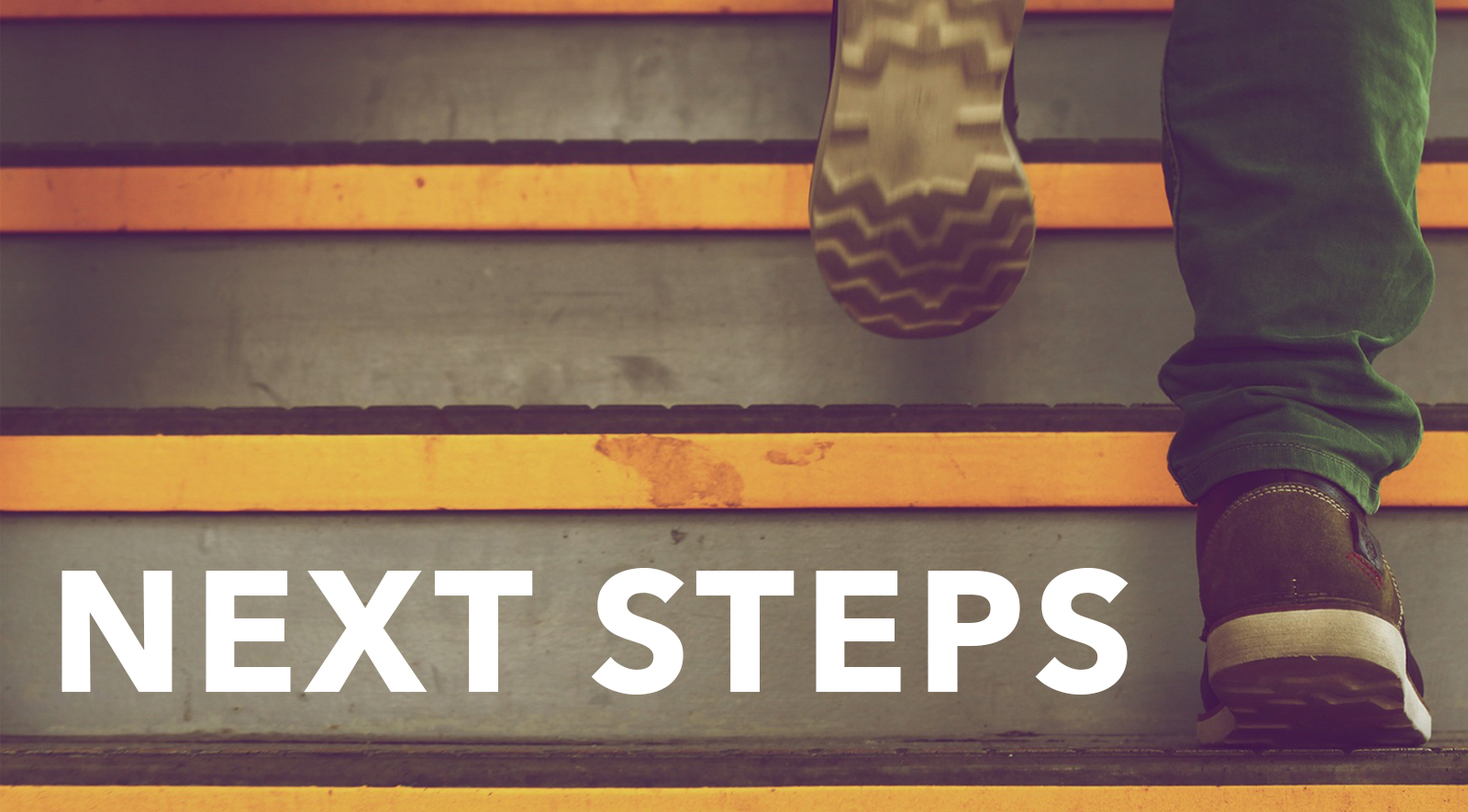 Each of us have a next step to take.
What is a next step?
We've all got a next step to take as we move forward and LIVE LIKE JESUS. This page will give you some ideas on Next Steps at Carlisle United Methodist Church.
CONNECT CARd

We want to know you and we are so glad you are here! Our team would love to serve you and help you get connected. Please fill out our online Connect Card and let us know you are worshipping with us or want to know more about us! Fill out our Connect Card here.

PRAYER REQUESTS

Prayer is a vital part of our life together. Our vows of membership include promising to pray for the church and for one another. Prayer lifts us up, encourages, strengthens, and comforts. Above all, prayer WORKS. Submit your prayer requests or praises here.

GIVE

Together at CUMC we give as an act of worship and praise to God; empowering each other and our community to Live Like Jesus. Give Securely online here; Text "Give" to 717.964.4111; Mail gifts directly to the Church Office OR Give in Worship services.
---
---
next steps in worship
SUNDAY WORSHIP
SUNDAY WORSHIP

WORSHIP TIMES

8:00am Traditional Service, 9:45am Contemporary Service or 11:15am Relaxed Traditional Service. 8:00am & 9:45am services will be Live Streamed.
---
october 10-october 24 sermon series
ROOTED AND GROUNDED IN LOVE

Sundays: October 10-24 - As we celebrate God's faithfulness during our first year and celebrate our Grand Opening 2.0 on October 24, we give thanks for God's love and look forward to being rooted and grounded in love for many years to come. Download the phone lock screen graphic here.
---
sermon series survey
| | |
| --- | --- |
| | Let us know what sermon topics you would be interested in hearing in 2022. Fill out this quick survey and help shape preaching themes for the new year! |
---
next steps in growing
adult sunday school options
---
iconography exhibit
October 31 - November 30, Room A1

Beginning October 31, there will be an exhibit in Room A1 of several icons of historical note along with works by Dr. Russell Hart, retired pastor and member of CUMC. The exhibit will remain in place through the month of November. For more info, click here.
---
WALKING With jeSUS: COST OF DISCIPLESHIP
| | |
| --- | --- |
| | Every other Saturday: April 24 thru October 30, 6-7:30pm, via Zoom. Journey together in deepening our relationship with Jesus. Through examining the Sermon on the Mount, we will grow our understanding of what it means to walk with Jesus and the cost of discipleship. Bonhoeffer's premise, "only those who believe obey" and "only those who obey believe" serves as the basis in exploring our individual and wider community roles in conforming to the image of Christ. Led by Kevin & Julie Guistwite. Book costs $10.99. SIGN UP HERE. |
---
student ministry (6th-12th grade)
---
kids' ministry (birth - 5th grade)
---
next steps in connecting
believers in action
| | |
| --- | --- |
| | Believers in Action, a group at CUMC committed to education and action around topics of social concern and justice, is looking at understanding of the general UMC beliefs and trying to plan events in 2022. They would like your input. Please complete this short survey to share your thoughts and ideas by October 31. |
---
THIS IS US CLASS
| | |
| --- | --- |
| | Sundays: November 14 & 21, 9:30am. For anyone newer to CUMC. Learn who CUMC is, why we do the things we do, and most importantly how you can become connected. Sign up here. |
---
facebook cumc group
| | |
| --- | --- |
| | CUMC Community is an online meeting place for Carlisle UMC members. A place where members can chat, share news, encourage and pray for one another, and keep up-to-date with church life. This is where you can feel comfortable sharing with your church family. Join here. |
---
WALKING CLUB
Walks weekly on Wednesday at 9am and monthly on a Saturday at 9am - usually in Carlisle but also considering taking the van(s) and walking elsewhere.

When it rains, we'll walk indoors.

If you have not signed up yet, the club has an open membership policy. Please send Kerm Leitner, the name of your emergency contact and that person's cell number.

Any questions, please contact Kerm.
---
run cumc
| | |
| --- | --- |
| | "Run CUMC," a running group, connects those who enjoy running. Meets Sundays thru November 14, 5-7pm at the church. Childcare provided by the church. For more info, contact Gary Ankabrandt, . |
---
next steps in serving
THANKSGIVING DINNER
| | |
| --- | --- |
| | CUMC joins Project SHARE to help provide Thanksgiving and Christmas dinner to families in Carlisle. You can sponsor a full dinner ($40), the turkey ($20), or more. Use special envelopes at Info Central or give online. Donations due by Nov. 14 so meals can be given to families on time. |
---
project share - main building & farmstand volunteers
| | |
| --- | --- |
| | Help hand out food to those in need Tuesdays, 2-5pm at the Farmstand or Wednesdays, 8:30-10:30am at the main building. Sign up at Info Central or email Robyn Krohn, to help feed those in our neighborhood. |
---
safe harbour team
| | |
| --- | --- |
| | Volunteers are needed to help with childcare during parenting classes on Tuesday and Thursdays, 5:15-6:30pm at Safe Harbour. Clearances are required. Contact Kendra Hatch, |
---
BLESSED TO SERVE
| | |
| --- | --- |
| | Blessed to Serve ministry needs help doing small home repairs for older members. Changing lights, small paint jobs, fixing a leak, etc. Hours often are very flexible. Contact Bill Yufer at to help. |
---
serving at cumc
| | |
| --- | --- |
| | Want to SERVE at CUMC by helping with building upkeep? Check out all the ways to help here. |
---
interested in membership?
We believe that Christians are made, not born. There we take it as our responsibility to take the initiative in making Christians and initiating new people more...